Download our guide!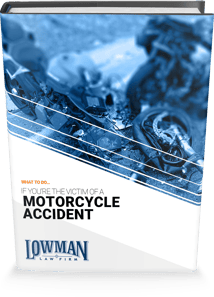 Did you know that, in the United States, 14% of all traffic fatalities in 2013 were due to motorcycle accidents? This percentage, alongside the amount of injured motorcyclists, has grown over the last ten years.
Many motorcyclists that are injured after a crash do not know how to proceed with their insurance company or injuries incurred.
In this free guide, you will learn:
What to do following an accident
How to handle your property damage
Why you should pursue an injury claim
Compensation you're entitled to
And more!
Our team of committed, educated motorcycle accident attorneys can help you receive the full compensation you deserve, and eliminate the stress of taking your own claim to court.
We hope this free guide will be helpful for you or anyone you know who has been the victim of a motorcycle accident. Please fill out the form on this page to access your free guide.