Do You Know What Questions to Ask?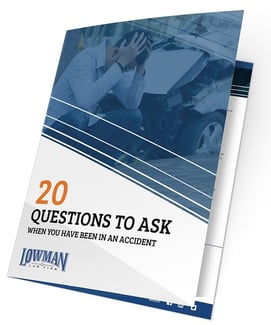 Have you or someone you know been in a car accident, motorcycle accident, slip/fall accident, or any other accident?
Get the answers to the questions you should ask yourself to protect your rights.
This guide answers questions such as:
Do I have to pay a lawyer up front to investigate and take my case?
How much money will I receive in compensation?
What if the person who caused the accident doesn't have insurance?
Why is the insurance company saying it's my fault when the other driver got the ticket?
Fill out the form to the right and get the full guide including the 20 Questions to Ask When You Have Been In An Accident!